br>






IN THE NEWS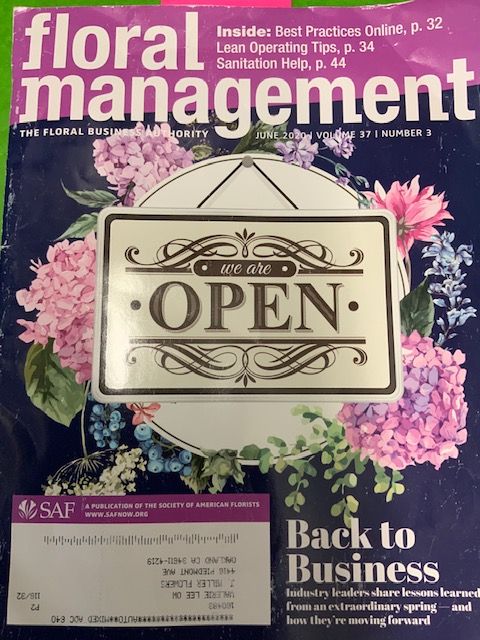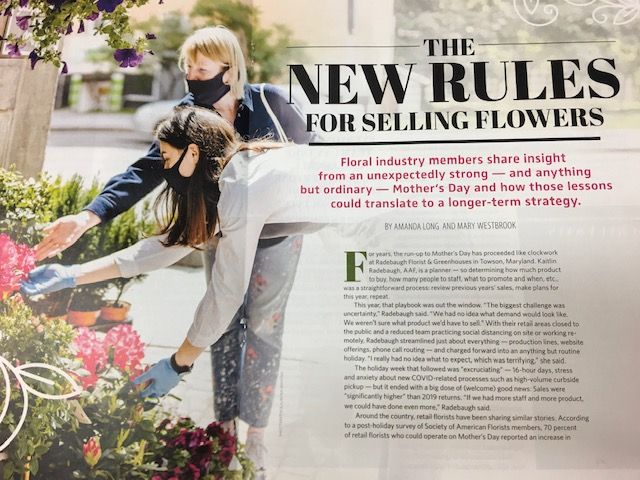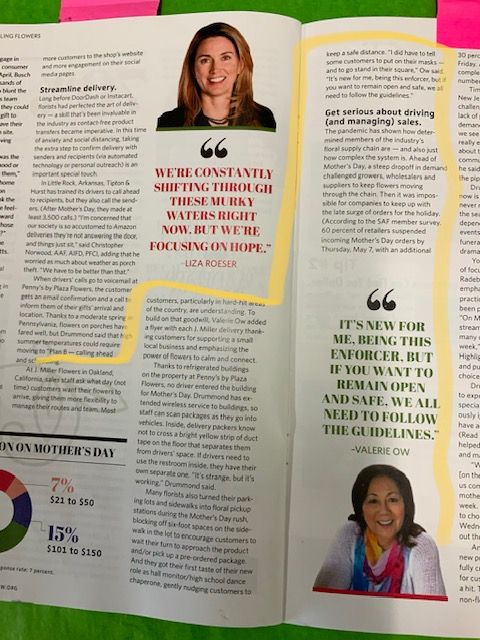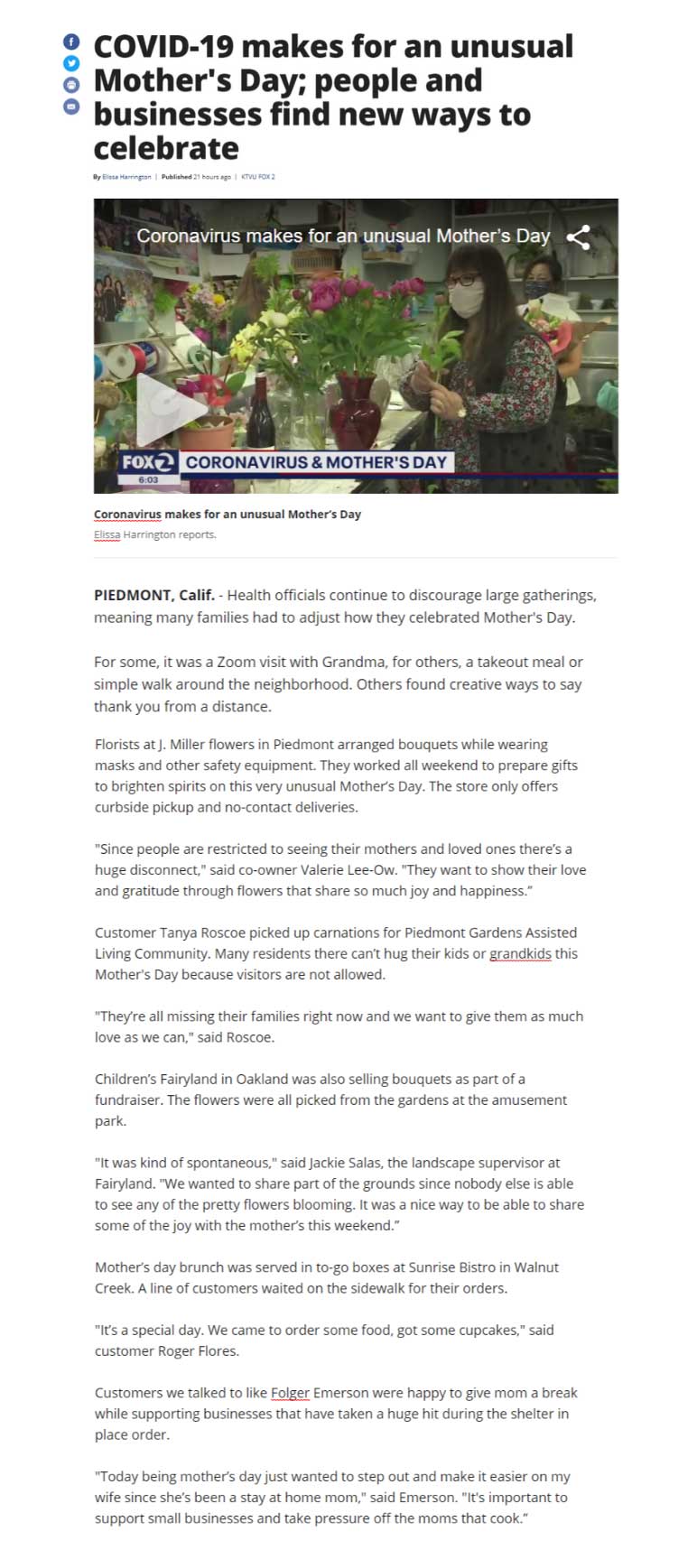 Petal it Forward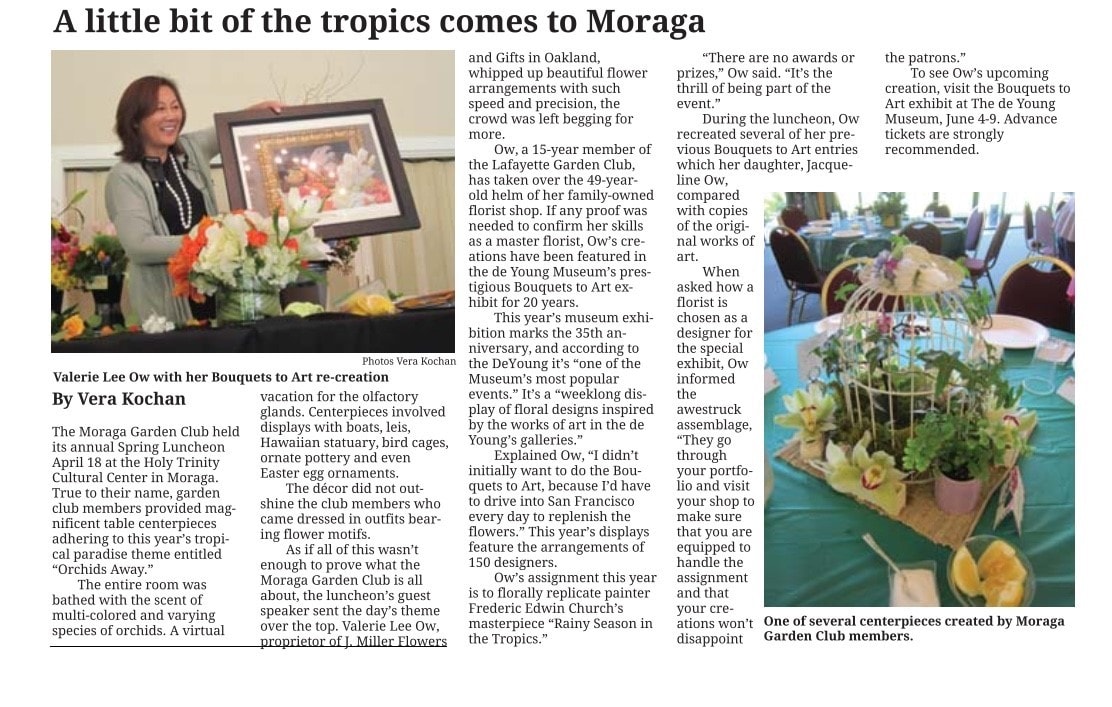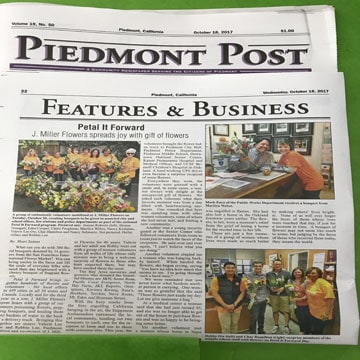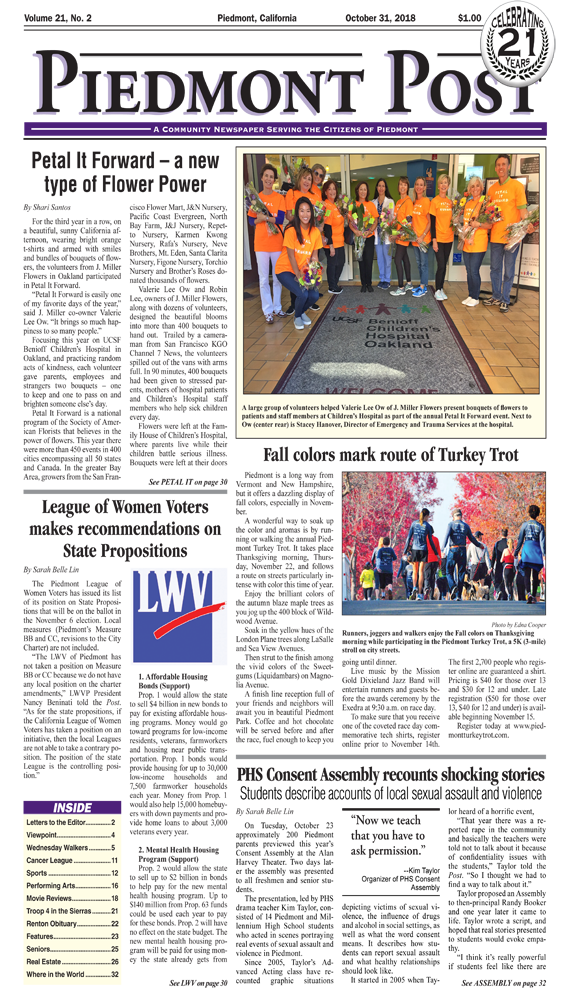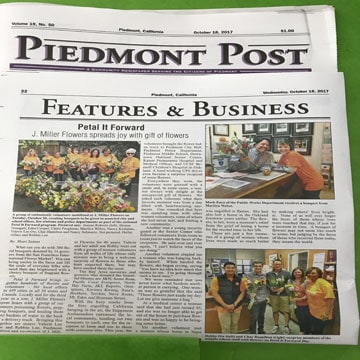 Oakland: J. Miller Flowers participating in de Young Museum's Bouquets to Art

By SARAH TAN | Correspondent
March 7, 2017 at 7:00 am


Robbin Lee, left, Valerie Lee Ow, center, and Morgan Carpenter pose with the floral arrangement J. Miller Flowers and Gifts on Piedmont Avenue created for last year's Bouquets to Art exhibit at the de Young Museum in San Francisco. (Courtesy of Valerie Lee Ow)

As the annual Bouquets of Art exhibit at the de Young Museum gears up for its 33rd year from March 14-19, one long-standing Piedmont Avenue flower shop will be participating and helping to organize the event as well.

J. Miller Flowers and Gifts, 4416 Piedmont Ave., will be participating in the fundraiser for its 18th year, and co-owners and sisters Robbin Lee and Valerie Lee Ow will be creating their own flower arrangement for the San Francisco exhibit.

The de Young Museum hosts the exhibit every spring. It features 120 floral arrangements by designers from around the Bay Area. Each arrangement is meant to be inspired by a work of art in the de Young's permanent collection.

For Ow, she said she first started submitting a floral design after being invited to the exhibit 25 years ago.

"I've just always really enjoyed museums and the art, and I think the idea and intrigue of incorporating my flowers with famous art pieces was really exciting," she said.

This year, J. Miller Flowers and Gifts will be submitting an arrangement based off Everett Shinn's painting, "Outdoor Stage, France." Ow said she and her partners chose the Shinn painting for a number of reasons.

"I love the movement of the painting," Ow said. She said she also liked that the painting focused on a woman, and she felt that the role of women in today's political climate was becoming increasingly important.

"I support and promote and hire a lot of women in our shop, and I think it kind of spoke to me on a lot of levels," Ow said. "The movement and the colors, it's sort of subtle but striking."

She said her shop plans to use a combination of dark succulents, orchids and roses to create its version of the painting.

The de Young holds the exhibit as a fundraiser to benefit the Fine Arts Museums of San Francisco. This year, the exhibit will be open from March 14-19, with an opening gala where guests can get a first viewing of the designs on exhibit.

Ow will also be participating in the "Meet the Designer" program on two days at her exhibit in Gallery 28: Outdoor Stage, France from 12 to 1 p.m. March 14, and from 1 to 2 p.m. on March 18.

The event typically draws around 750,000 visitors and generates about $6 million, which will go toward helping fund special exhibits, conservation projects and educational programs at the de Young.
News on Mother's Day
Oakland: Florist will 'Petal it Forward,' hand out free flowers
J. Miller Flowers and Gifts on Piedmont Avenue in Oakland will participate in the nationwide "Pedal it Forward" program on Oct. 19, and will give out 700 flower bouquets for free at various locations in Oakland and San Francisco. Shown, in top row, from left, are: Robbin Lee, Jacqueline Ow, Jeannette Tregea, Sandra Felizardo and Valerie Lee Ow. In bottom row, from left, are: Yoko Kijiwara, Gina Guzman and Marina Guzman. (Courtesy of DuendePhoto.com)

OAKLAND — J. Miller Flowers and Gifts, 4416 Piedmont Ave., will be hitting the streets of San Francisco and Oakland on Oct. 19, handing out hundreds of flowers to busy commuters to help brighten up their week, as part of the "Petal it Forward" program in partnership with the Society of American Florists (SAF).
The program is in response to new findings by SAF that show the positive emotional benefits of flowers.
"We are happy to participate in the national 'Petal it Forward' campaign to bring smiles and to lift people's spirits," said Valerie Lee Ow, co-owner of J.Miller Flowers and Gifts. "Let's see what the power of flowers can do. We can't wait to surprise our communities with fresh flower bouquets on October 19."
The florist will give recipients with an extra flower bouquet to share with a loved one, coworker or a stranger.
"We see the positive impact day in and day out when we make our flower deliveries," said Jacqueline Ow of J. Miller Flowers and Gifts. "People love to get flowers 'just because' so we wanted to create random smiles today, and give people a chance to do the same for someone else."
In March 2015, SAF conducted a survey of 2,500 people throughout the United States to examine the impact of flowers on Americans. The results revealed the many benefits of flowers, including the positive impact flowers have on one's emotions and happiness, and backed up previous research studies on flowers conducted by Rutgers, Harvard University and Texas A&M.
J. Miller Flowers and Gifts will give away 700 bouquets to people on the street. After receiving their flowers, recipients are asked to spread the happiness by gifting their extra flower bouquet, and sharing their happiness on social media using #petalitforward.
— Valerie Lee Ow, J. Miller Flowers and Gifts
East Bay floral designers ready for annual Bouquets to Art in S.F.
By Maggie Sharpe, Correspondent
POSTED: 03/23/2016 06:51:09 PM PDT | UPDATED: ABOUT A MONTH AGO
OAKLAND -- More than 125 Bay Area floral designers will demonstrate their artistry April 5-10 at the 32nd Annual Bouquets to Art at the de Young Museum in San Francisco's Golden Gate Park.
Every year, florists draw inspiration from the museum's eclectic collection of paintings to create unique floral arrangements, from simple to sophisticated.
"With the Oscar de la Renta retrospective running simultaneously with Bouquets de Art, we are expecting between 50,000 and 70,000 visitors to this year's exhibit," said Suzanne Vuko, co-chair of the event, which is produced by the all-volunteer San Francisco Auxiliary of the Fine Arts Museums.
"New this year, we have a French-style flower cart," Vuko said. "After seeing the exhibit, visitors can purchase a beautiful bouquet of flowers to take home for themselves. We also have a fabulous lineup of speakers and cutting-edge designers. It's very exciting and a stunning way to start spring -- and there are still tickets available for the gorgeous opening night gala."
Proceeds from Bouquets to Art, which has netted nearly $6 million and has attracted approximately 750,000 visitors since its inception, support special exhibits, art restoration and educational programs at both the de Young and Legion of Honor museums.
This is the 17th year that Valerie Lee Ow, whose family has owned J. Miller Flowers and Gifts, 4416 Piedmont Ave. for 45 years, has taken part in the event. She was thrilled when Bouquets to Art chose her 2015 entry -- "Rhapsody" (Richard Mayhew, 2002) -- for its 2016 promotional brochure.
This year, Ow and her team -- sister Robbin Lee and assistant Morgan Carpenter -- are interpreting "Banner in the Sky." The 1861 Civil War-era oil painting by Frederic Edwin Church depicts a tattered Stars and Stripes blowing in the wind at sunset.
"What struck me about the painting was its simplicity with the dark gloomy sky and the colors of the sunset reflected through the stripes on the flag," Ow said. "I think it's even more special that we get to interpret this painting in an election year."
Ow and her team plan to use burgundy succulents, as well as such exotics as anthurium from Hawaii and white orchids from Thailand -- and a deep red rose, aptly called "Freedom."
Other attractions this year include a large installation in Wilsey Court by Oakland's Sharpstick Studios, which is celebrating its seventh year as a participant. Floral designers will also mirror pieces from "Oscar de la Renta: The Retrospective," the world premiere of the late clothing designer's work, which includes fashions from private collections -- as well as his wife's wardrobe. The respective is on view at the de Young through May 30.
This is the ninth year that Lafayette resident Jean David has participated in Bouquets to Art.
"My painting this year is 'Sacramento Railroad Station' (William Hahn, 1874)," David said. "It's a lovely painting illustrating a detailed scene of life at the Central Pacific Railroad Station. Hahn was known for his paintings of early California life."
David hopes to reflect Hahn's depiction of the ethnic and economic diversity in California at the time "with a confusion and variety of flowers."
"It takes me several attempts to decide how best to make my arrangement reflect my vision of the painting ... whether it is the style of my arrangement, the container or the flowers I'm using."
David said that by the opening night preview gala she's ready to celebrate. This year's gala opening features floral fashions by City College of San Francisco students, gourmet food, cocktails and live entertainment.
"It is a wonderful week of stimulating classes and a singular chance to see all the beautiful and exciting arrangements by the other designers," David said. "There is such incredible talent in the Bay Area and I feel very honored to participate in Bouquets to Art."
The 2016 event continues the popular guest speaker series, with demonstrations and panel discussions.
Just two of the many attractions include author and adventurer India Hicks who will present "Island Style: A Combination of Traditional British Past and Richly Flavored Caribbean Present." Danielle Hahn and her husband Bill opened Rose Story Farm in Santa Barbara nearly 20 years ago. She will talk on "Roses, Roses, Roses," a history of the flower and how to care for it.
"Hahn and her husband grow heritage roses that smell just like your grandma's did," said Vuko, who is also looking forward to a panel discussion led by Alisa Carroll, editor-in-chief of "San Francisco Cottages and Gardens," entitled "Conversation and Floral Display: The New Bloom."
On the panel will be Allison Futeral, co-founder of Crimson Horticultural Rarities in Oakland, and Christina Stembel, founder of Farmgirl Flowers in San Francisco. The panel will explore "how trendsetters and new techniques are redefining the future of floral design."
"This should be a very interesting conversation with these leading-edge contemporary floral designers," Vuko said.
Ow said it's a challenge to participate in Bouquets to Art each year -- for one thing, entrants have to refresh their flowers daily, either before or after the show, necessitating an early morning or late evening trip to San Francisco for her or one of her team members.
"It's a lot of work, but so exciting for us to not only showcase our creativity, but to give back to the community with these beautiful flowers," Lee said.

J. Miller Flowers owner among
'Bouquets to Art' floral designers

By Maggie Sharpe, Correspondent
POSTED: 04/01/2015 04:56:45 PM PDT | UPDATED: 12 MONTHS AGO
Robbin Lee, left, Valerie Lee Ow and Morgan Carpenter are preparing for this year s Bouquets to Art exhibit at the de Young Museum on April 13-19. ( Courtesy of Susan McGreevy )
OAKLAND -- For the 16th consecutive year, Valerie Lee Ow, owner of J. Miller Flowers and Gifts on Piedmont Avenue, will channel her floral design skills at "Bouquets to Art" from April 13-19 in the de Young Museum in San Francisco.
"I absolutely love this show and exposing the public to the museum and fine art," Ow said. "We get so busy with our lives that we often don't go to a museum more than once or twice a year, so my whole group looks forward to this event every spring."
This year's event, entitled "The Permanent Collection in Bloom," showcases 125 of the Bay Area's most innovative floral designers who will create one-of-a-kind flower arrangements, each of which reflects a painting in the museum. The weeklong exhibit, now in its 31st year, includes gala events and classes presented by top designers from the United States and Europe and is anticipated to attract some 50,000 visitors.
Volunteer members of the San Francisco Auxiliary of the Fine Arts Museums produce the flowery extravaganza each spring in support of conservation projects, educational programs and special exhibits at the de Young and Legion of Honor museums.
"The floral interpretations during Bouquets to Art week offer museumgoers the opportunity to view the works in the permanent collection with fresh eyes," said Kate Sullivan, chair of this year's show. "As the Bay Area anticipates spring each year, many visitors also eagerly anticipate how a favorite piece of art will be interpreted by a different floral designer. The most well-attended event at the museum, Bouquets to Art has raised over $6 million in support of the museums."
For Ow, the 2015 show is particularly exciting.
"This year, we are interpreting a very vibrant abstract painting by Richard Mayhew called 'Rhapsody,'" said Ow, who works with co-exhibitor Maureen Owens and assistants sister Robbin Lee and Morgan Carpenter. "In the past, we have done more traditional paintings so we wanted to do something quite different -- something that is more of a creative stretch, which would allow us to be more open and free with the flowers."
Ow is also planning to attend at least one of the half-dozen floral design demonstrations at Bouquets to Art. "Wild About Flowers" will be presented by one of London's top floral designers, Paula Pryke, OBE, who has created arrangements for such celebrities as Michael Caine and Emma Thompson and has written 18 books, including her latest, "Wedding Flowers."
"Maureen (Owens) gave me 'Wedding Flowers' for my birthday ....,?" Ow said. "Paula is a beautiful designer and we're lucky to have the chance to attend her class. The exhibit's classes are only $40 and you learn a lot. They're very reasonable and, of course, convenient."
Ow will also hold a special preview class on April 8 at her Piedmont Avenue flower shop entitled "Bouquets to Art," with a demonstration, hands-on floral designs, a tour of the shop and refreshments. Visit www.jmillerflowers.com for details.
Two exhibitors from the Lafayette Garden Club, Laurelle Thom and Jean David, make Bouquets to Art a special tradition each year.
"We spend the whole week in San Francisco and go to all the programs and classes," said Thom, who is exhibiting for her 11th year. "It's such fun to have a week dedicated to flowers and art. It takes a lot of effort to keep the flowers in our designs fresh for the entire week, so we go into the museum each morning to water and change out any flowers that are looking tired."
This year, Thom is interpreting Cornelia Parker's "Anti-Mass," which depicts the charred remnants of a black congregation church in Kentucky that was destroyed by arson.
"It's been on my list of pieces I'd like to interpret for several years so I'm excited to finally have an opportunity to do it," Thom said. "I'm still in the design process but I plan to use an artisanal container given to me by my mother-in-law. The first thing I thought of when I opened her gift was Ms. Parker's 'Anti-Mass' art."
Thom said Bouquets to Art aficionados don't need any encouragement to attend the show, but hopes newcomers will check it out this year as well.
"I know there are many people who attend every year but it's especially fun to bring someone who's never been. They are invariably awestruck by the creativity and talent of the many exhibitors," Thom said. "If that isn't enough, it's for such a good cause -- raising money to support our beautiful museums."
David is an independent designer and has been exhibiting at Bouquets to Art for eight years. This year, she's interpreting "The Study of the Guard of the Harem" by Frank Duveneck.
"I've always found this to be an interesting painting -- the colors and the young man's intensity have always attracted me," said David, who is excited to devote a whole week to flowers. "I absolutely love the speakers and the wonderful creations of the other designers. It is very stimulating and exciting. I feel very privileged to be involved in it and very happy that the museum can benefit from such a grand week."
FYI
What: Bouquets to Art
When: April 13-19
Where: de Young Museum, Golden Gate Park, 50 Hagiwara Tea Garden Drive, San Francisco
Tickets: $22 to $23, adults; $19 to $20, seniors 65 years and older; $18 to $19
Students with ID; $12 to $13, youth ages 6 to 17; members and children under 5, free.
Check out what Contra Costa Times said about us!
'Bouquets to Art' returns to de Young Museum for 30th anniversary
OAKLAND -- "Bouquets to Art" returns to the de Young Museum in San Francisco's Golden Gate Park for its 30th anniversary celebration this month.
Famed floral designers from the Bay Area and beyond draw inspiration from the museum's eclectic collection of paintings to create a wonderland of flowers. Before the exhibit, each designer is assigned a painting that they interpret and mirror through their floral designs, which range from the traditional to the avant-garde.
"I love to see how designers interpret the art work differently each year," said Valerie Ow, who owns J. Miller Flowers on Piedmont Avenue and who has participated in the show for 15 years. "I love the event because it allows me to show off my creativity while also supporting the museum and the arts."
Volunteer members of the San Francisco Auxiliary of the Fine Arts Museums produce the flowery extravaganza every spring in support of conservation projects, education programs and special exhibits at the de Young and Legion of Honor museums.
"The week of the show brings in the most visitors of the year to the de Young," said auxiliary marketing chair Carol Rossi, who expects more than 50,000 people to attend this year. "Over the course of 30 years, the auxiliary has raised more than $5.5 million to support museum projects at the de Young and Legion of Honor."
She said money is used in three primary ways: to purchase art; to underwrite special exhibits such as the current "Modern Nature: Georgia O'Keeffe and Lake George"; and to restore works of art for display.
This year, Ow and her assistants, sister Robbin Lee and Laura Nagle, will interpret a painting entitled "Cupid Stung by a Bee" by American painter Benjamin West (1838-1820), in which Venus consoles Cupid after he has been stung.
"I'm very excited to be awarded this gorgeous painting," Ow said. "It has an airy, springlike feeling, so I'm incorporating a lot of spring flowers into the arrangement, including garden roses, flowering jasmine, dusty miller and freesias. I'm also going to use some family heirloom brass cherubs to make a three-dimensional statement with my flowers."
Ow's floral creation will be displayed in Gallery 20.
Dariel Alexander, a member of the Lafayette Garden Club who formerly worked at J. Miller Flowers, has been participating in "Bouquets to Art" for 29 years. She remembers when it first began at the Legion of Honor Museum before moving to the old de Young and finally into the new de Young building in 2005.
"I've enjoyed it immensely, it's flattering to be asked back year after year," said Alexander, who never had any formal training in flower arranging, but discovered a natural knack for floral design. "Even as a child, I always loved flowers and flower arranging."
This year, Alexander is interpreting "Winter's Festival" by American painter Willard Leroy Metcalf (1858-1925), who is best known for his landscapes.
"I'm going to do something quite simple in whites and grays," said Alexander, a senior who lives in Lafayette. "The scene of the meadow and frozen creek are quite indistinct, but like many paintings, you can imagine the scene."
She said she's loved how the show has blossomed over the years.
"From the beginning, it was beautiful; it has grown more and more over the years -- now they bring busloads of people from all over the place," Alexander said.
Alexander's floral arrangement can be viewed in Gallery 28.
In honor of its 30th year, the show will be on an extended run of seven days and will feature lectures, floral demonstrations and activities for all ages.
Ow plans to attend at least one of the many floral design demonstrations.
"In addition to the floral exhibits, there are wonderful lectures throughout the week," Ow said. "I'm planning to attend David Stark's 'The Art of the Party.' He's a New York-based florist and designer who works at high-end events for Beyoncé and other big celebrities."
Festivities kick off with an opening night gala and preview on March 17 with a buffet, music and "Floral Fashions," a runway show inspired by the museum's artworks, created and modeled by students from City College of San Francisco's environmental horticulture and floristry department.
"The opening gala is great fun," Alexander said. "The museum pulls out all the stops for us and we have a wonderful time."
PRESS RELEASE
*** J. Miller Flowers and Gifts is in Top 2000***
J. Miller Flowers and Gifts of Oakland was recently awarded the prestigious "Top 2000" honor by Teleflora. The annual award is based on the demonstration of outstanding contributions to the Teleflora Organization and the volume of incoming and outgoing orders. Teleflora acknowledges only the highest quality products and excellence in customer service.
Valerie Lee Ow and Robbin Lee, the owners of J. Miller Flowers and Gifts were personally presented with the award by Jim Reed of Teleflora, and the shop will be featured in an upcoming edition of the Teleflora Newsletter.
Teleflora, a floral wire service with over 18,000 members in the United States and Canada, offers only hand-arranged and quality delivered floral products. J. Miller Flowers and Gifts is proud to be a quality business serving the community for over 42 years on Piedmont Ave.
---
Oakland CA-J. Miller Flowers and Gifts was recently recognized by Teleflora, the world's leading flower wire service offering only hand-arranged and hand-delivered floral arrangements, as a TOP 2000 florist for the year 2012.
This is the fifth year in a row and eight out of the last nine years that J. Miller Flowers and Gifts has achieved this award. Teleflora has approximately 18,000 member florists throughout the U.S. and Canada and this prestigious award recognizes J. Miller Flowers ad Gifts as being in the top one percent of all U.S. florist shops sending orders through Teleflora. This coveted award stands as a public tribute to this enterprising florist and their contribution to the floral industry.
Teleflora is the world's leading flower delivery service connecting customers with the nation's best local florists for over 75 years. All Teleflora flower arrangements are artistically arranged and hand-delivered in a keepsake vase using only the freshest flowers available through its member florist network. Headquartered in Los Angeles, Calif., Teleflora has over 18,000 member florists throughout the U.S. and Canada, with an additional 20,000 affiliated florists outside North America.
About J. Miller Flowers and Gifts
J. Miller Flowers and Gifts has been a member of the community for over 60 years, and is located at 4416 Piedmont Ave, Oakland. Consumers can place floral orders for same-day delivery to anyone worldwide by contacting J. Miller Flowers at 510-658-0613.
You can also find out more about J. Miller Flowers and Gifts and order flowers 24 hours a day by visiting www.jmillerflowers.com.
---
Little time to smell the flowers
By David Morrill
Oakland Tribune
Posted: 03/05/2010 01:19:19 PM PST
OAKLAND - If a rose were just a rose, then J. Miller Flowers and Gifts might be in trouble. They definitely wouldn't be a 40-year-old family business.
With so much competition in the industry, its owners Valerie Lee Ow and her sister Robbin Lee have seen their share of other floral shops come and go.
"When we first got in this business, the florist shop was really the only place a person could get flowers," Robbin said. "Now you can find them all over."
For this duo, they not only put a large focus on customer service and a quality product, but on offering unique services as well.
"We've seen a decline like every other business out there, so we've had to find new ways to reinvent ourselves," Valerie said.
From picking up products at the flower market in San Francisco three days a week, to timing when the flowers are open to the fullest, to preparing deliveries, the process requires meticulous planning.
In good times, roses typically are the top seller. A dozen will usually sell for up to $65. Now more customers are going to seasonal mixed spring arrangements that include lilies, snap dragons, tulips and a few roses for about $35.
Already a low-margin business, everything must be managed carefully to ensure current and future success. About 60 percent of the business' revenue comes from telephone or Internet orders.
"We got rid of some people that were not effective, which forced us to not just work harder, but smarter as well," Valerie said. "We have learned how to run a much tighter ship."
Located at 4416 Piedmont Ave. in Oakland, the store was started 60 years ago by John Miller before it was bought by the Lees' mother in 1970.
"My dad used to joke that most husbands have to buy their wife flowers, he had to buy her the whole store," Valerie said.
Robbin and Valerie officially took over after their mother passed away from pancreatic cancer in 1998.
Open 365 days a year, the store delivers to 75 cities in the greater Bay Area including some in Contra Costa County. They have established a strong client base, including the Oakland Raiders who use them regularly, Valerie said.
Fran Wolfe, a customer who has used J. Miller for nearly 40 years says, "They will do whatever you ask and follow your instructions implicitly."
Recently J. Miller Flowers began offering monthly floral classes to help bring in more income.
Additionally, it has a unique delivery and placement service at a handful of cemeteries around the area. Customers pay the store to design, deliver and place flowers at designated times of the year, such as birthdays, holidays, and the anniversary of the death. Because the business collects the money at the start of the year, it gives them some cash flow out of the gate.
For students, J. Miller has a deals with seven schools in which it designs the prom corsages and delivers them to the sites.
"We always need to be on our game, because if someone sees something better at a Trader Joe's we might lose them," Valerie said. "If we stay connected to the community, I believe that we'll continue to do well."
Bouquets to Art / San Francisco
J. Miller Flowers and Gifts, Valerie Lee Ow; co-exhibitor Maureen Owens; assistant Robin H. Lee, Oakland "Super Size Me" giant colorful balls of spray roses, blue thistle,
Geneva Anderson and Evelyn Severson marvel at J. Miller Flowers and Gifts, Valerie Lee Ow and co-exhbiitor Maureen Owens of Oakland's floral gum balls that correspond to Wayne Thiebaud's "Three Machines," 1963 from the De Young's permanent collection.
Holiday shoppers urged to keep it local
Bay Area consumers increasingly put their money where their homes are, as the "shop local" movement continues to gain traction.
More people here and nationwide choose to spend their hard-earned cash on goods that are made and sold in their communities, part of a growing trend that's transcended its grassroots origins to go mainstream. Cities, merchants and even giant American Express are all mobilizing to fuel the concept that shopping on Main Street bolsters communities.
"The whole consciousness of consumers has changed over the past few years," said Hut Landon, executive director of the Northern California Independent Booksellers Association and volunteer executive director of San Francisco Locally Owned Merchants Alliance. "More and more people go to (local) stores and say, 'I'm shopping here because you're local and I want you to stay.' They realize no one is bulletproof; it creates a sense of urgency to support local stores."
"Small is good," said Clark Kepler, former owner of Kepler's Books in Menlo Park and president of merchants group Hometown Peninsula. "Shopping local is like living green - individual choices add up to significant results. When people think only as consumers, it's extremely short-sighted. As a consumer, the goal is the cheapest deal. As a resident, you think about the impact of your buying decisions long-term on your community."
Loyal customers
Merchants say that patrons clearly appreciate their uniqueness.
"After 42 years on Piedmont Avenue, we hear from customers all the time who grew up with us," said Valerie Lee, who grew up working in her parents' flower store, J. Miller Flowers and Gifts, along with her sister Robbin.
The two, who now run the store, bought 20 "Oakland Grown" gift cards as holiday presents for their employees. Accepted at a plethora of Oakland shops, the card offers reward points ("OakShares") to encourage residents to patronize neighborhood shops.
The Oakland Grown card is a visible manifestation of the city's efforts to encourage residents to shop locally. "It's so important to stop the cash flow going out of Oakland," said Erin Kilmer Neel, director of the city's Sustainable Business Alliance.
Oakland, like other "shop local" communities, is armed with lots of economic arguments. Buying at independent stores circulates two to four times more revenue back into the local economy than buying at chains, research shows, because local merchants tend to buy their goods and services in the immediate region, donate to local charities, and, of course, hire locally.
"You send a ripple of economic benefits through other businesses in the community and support a lot of jobs," said Stacy Mitchell, senior researcher at the Institute for Local Self-Reliance, a nonprofit focused on the issue. "With national chains, much of the money is sucked out of the community, other than fairly low-wage jobs at the stores."
Beyond that are the intangible benefits of diverse, unique neighborhoods.
"People have more of a sense of wanting to live in distinctive communities," Mitchell said. "The path of (big-box stores) leads us toward homogenization, where every place looks like every other place."
AmEx on board
Ironically, a major corporation is helping propel the movement.
American Express is sponsoring Small Business Saturday the weekend after Thanksgiving for the third year in a row. Members who enroll their AmEx card and then spend $25 or more at participating merchants on that day receive a $25 credit. The company said 103 million people participated in 2011.
Small Business Saturday "has definitely had a significant, positive impact," Landon said. "American Express is spending millions of dollars on it. It gives consumers a reason to go out on Saturday and put their dollars where their houses are."
"We're going to do it this year for the first time," said Gerald Johnson, owner of The Ark Toys, which has three stores in San Francisco and Berkeley carrying wooden, educational and imaginative playthings. "We put up signs informing customers and offering them discounts, and we'll promote it on the radio."
The store already saw a big jump in sales during the third annual Neighborhood Toy Store Day, held Nov. 10, when 500 toy stores nationwide offered prizes, in-store games and events.
"It's really nice to go out into your community and have (store workers) know your children, suggest things they may like," said Pamela Ball of San Francisco, who shopped at the Presidio Heights Ark store that day. "More and more these days you go into stores and you're anonymous."
In San Francisco, SFMade, a nonprofit that supports companies that manufacture in the city, will showcase its members' goods - jewelry, chocolate, apparel, housewares and body products, among others - at a holiday gift fair at Fort Mason on Dec. 9.
"The holidays are a great time to reinvest dollars back into the community," said Ferron Salniker, SFMade program coordinator. "By buying locally made products, you're supporting local companies that are creating jobs."
For people who want to shop local in unfamiliar neighborhoods, a new iPhone app, ShopNear.me, helps them zero in on independent designers and shops. It's starting off focused on San Francisco neighborhoods.
"Our goal is to drive foot traffic to local boutiques that make our city unique," said co-founder Yuan Zhang.
---
Oakland's J. Miller Flowers volunteers deliver bouquets, goodwill to smiles, tears
By STAFF REPORTS | Bay Area News Group
PUBLISHED: October 25, 2017 at 9:35 am | UPDATED: October 25, 2017 at 9:46 am